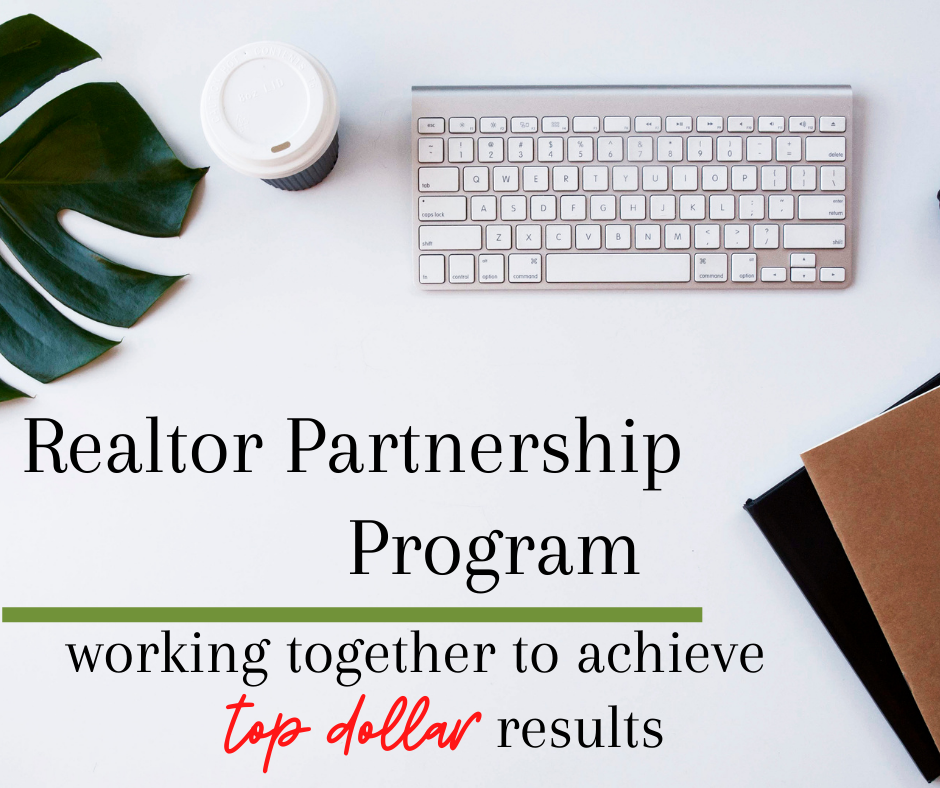 How would you like to add a Certified Professional Home Stager to your team with absolutely no overhead?
When you become a Realtor Partner that is exactly what you'll get!
Here are all the fabulous benefits you'll gain once becoming a Realtor Partner:
🏠 Complimentary Professional Property Staging phone chat for each of your listing clients (occupied & vacant homes). During this brief chat, your client will be given practical staging advice to aid them as they prepare their home for listing. They will also receive a SHOWING PREP CHECKLIST that provides reminders of important things to do prior to each showing.
🏠 Professional Home Styling & Staging Listing Packet Insert to showcase the value-add you bring to your listing clients.
🏠 Special Pricing on Show-Ready Home Consults for occupied homes. (This $20 discount is applicable to Realtor-paid consults only.) Professional Property Styling is aimed at creating a lifestyle that sells for Top Dollar by raising perceived value, increasing perceived size and reducing perceived negatives for each home.
🏠 3 for 3 Pricing on Vacant Home Staging. When you purchase a 3 room home staging package (for example – Living Room, Kitchen, Master Bedroom), you'll receive 3 mini rooms included at no additional cost (for example – foyer, half bath, master bath).
🏠 Priority Scheduling on Vacant Home Staging. Vacant staging requires inventory allocation and intense pre-planning. Realtor Partners' projects will be accepted ahead of non-partners' requests.
🏠 Special Discounted Pricing on High-Quality Professional Photography (up to 36 amazing shots) that showcases the home at it's full potential. This service includes coordinating photography shoot with styling/staging session. (One less thing for you to do!)
🏠 Beautifully articulated MLS description that will draw potential buyers into the home. This creative writing service is discounted 20% off regular pricing with each vacant stage (3 room minimum package). $75 regular price.
We continue serving our Realtor Partners beyond the listing stage. We'll meet up again once under contract for these value-added services:
🏠 Transaction Management Service that manages your timeline from contract to close. Impressing your clients during the last stage of the selling process will gain you repeat clients and referrals. Inquire for pricing.
🏠 Custom Closing Gifts to fit your clients and your budget. This is a very important, often overlooked, final opportunity to WOW your client. Our sophisticated house-warming gifts are sure to make a lasting impression. And positive lasting impressions lead to referrals.
What is expected of you as a Realtor Partner?
With any partnership, there are expectations for each party involved. Please read over to ensure you are committed to these few requests:
Upon acceptance to the Realtor Partnership Program you will agree to:
✔️Use Home Styling Studio, LLC exclusively for all your home styling & staging needs.
✔️Present Professional Home Styling & Staging Service Options to each listing client.
✔️Provide Home Styling Studio, LLC access to each of your listing clients by providing a contact number for the complimentary phone chat (for vacant & occupied home listings).
✔️Provide ample lead time (preferably 2 weeks) for all vacant stage projects.
Partner Program seats are limited. To be considered for this program, contact us.
I'm interested!
Or you may call or text Christy directly at 423-302-0060. ☎️