Craving some timeless tranquility in your space? Sprucing up your bedroom with neutral design accessories can create a calming and sophisticated atmosphere. Neutral colors, such as whites, grays, beige, and soft pastels, provide a versatile backdrop for various accessories and decor elements.
Take a look at Amanda's primary bedroom design where we brought timeless tranquility to a once uninteresting, neutral space. Here are some tips on how to achieve your own stylish, timeless tranquility bedroom design using neutral colors.
1 . Bedding: Start with neutral-colored bedding in shades like white, cream, or light gray. You can add subtle texture through duvet covers, throws, and pillows. Consider using different fabrics like linen or faux fur to create depth and interest.
2. Pillows and Throws: Add accent pillows and throws in complementary neutral shades to your bedding. You can experiment with different patterns and textures to add visual appeal without introducing bold colors.
A soft blush quilt coupled with two sets of ruffled pillows (blush and dark gray) shams, plus a word pillow added just the right amount of color and texture to this focal point in the room.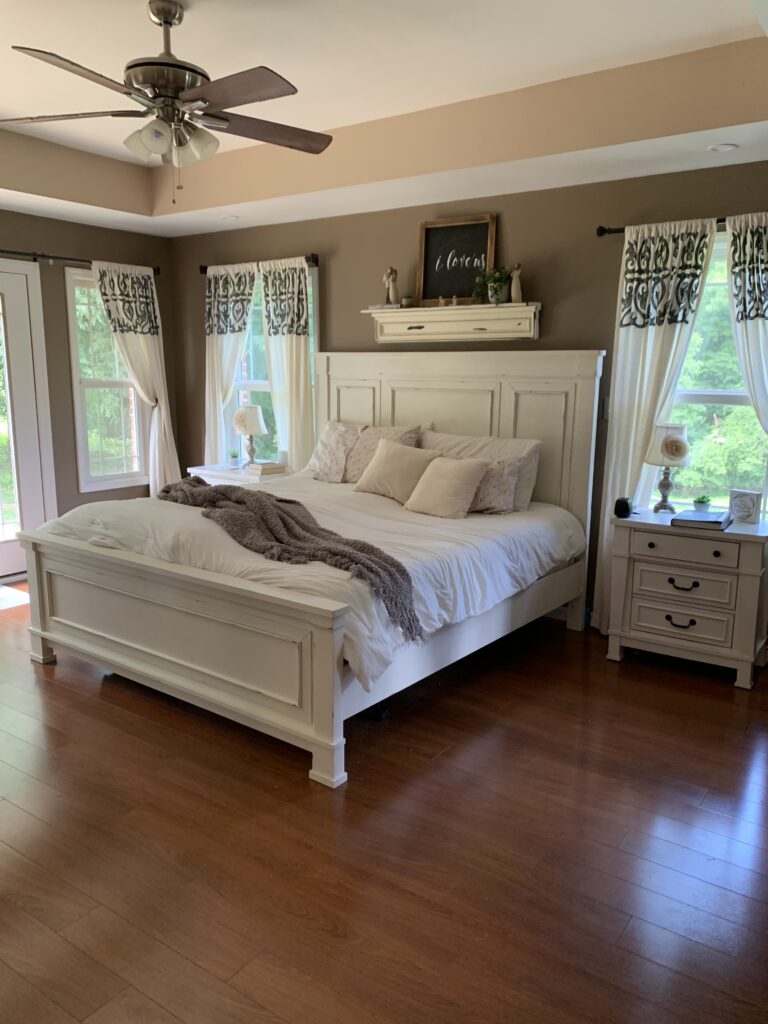 3. Area Rug: Place a neutral-colored area rug under the bed to anchor the space and add warmth. Look for rugs with subtle patterns or textures that complement the overall design.
4. Wall Decor: Opt for artwork or wall decor that features neutral tones or simple black and white designs. Framed photographs, botanical prints, or abstract art can enhance the room without overpowering the neutrality.
5. Curtains: Choose curtains or window treatments in light neutral colors or soft, muted patterns. These will blend well with the overall design while adding elegance to the room.
We went a little bolder on these curtains because we used what the client already had and the black accent tied in beautifully with the other elements in the room.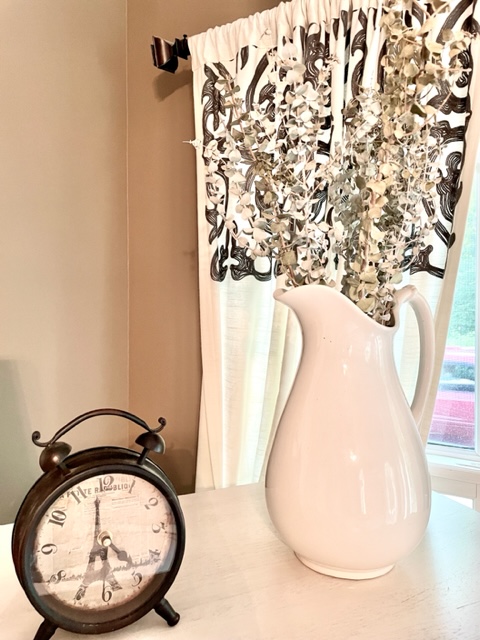 6. Lighting Fixtures: Upgrade your lighting fixtures to enhance the bedroom's ambiance. Consider pendant lights, table lamps, or floor lamps with neutral-colored shades or bases.
7. Mirrors: Mirrors not only make the room feel more spacious but also add an elegant touch. Look for mirrors with neutral frames or frames that match the overall color scheme.
8. Natural Elements: Add some greenery or natural elements like potted plants, dried flowers, or branches in a neutral vase to bring a touch of nature into the room.
We pazzazed up this mirror by hanging it on the wall and adding a DIY greenery accent and for under $10.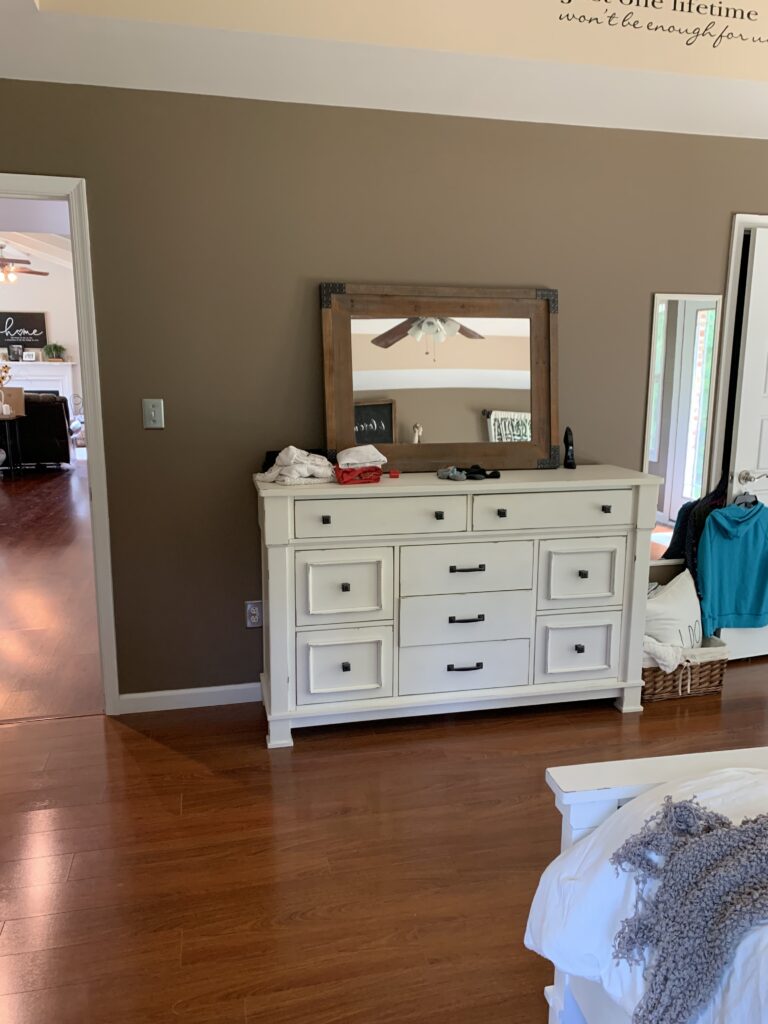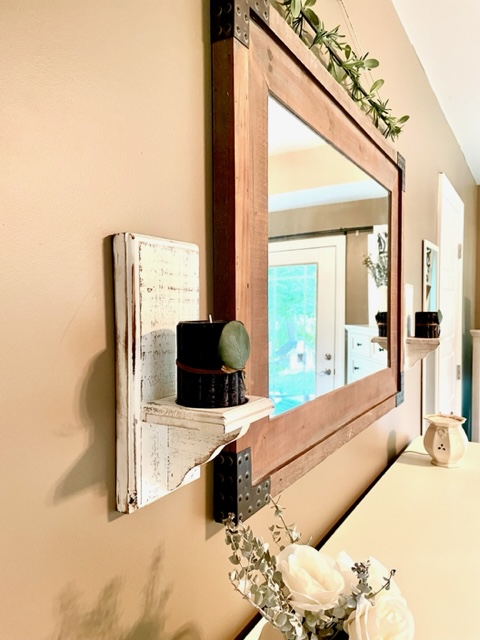 9. Storage and Decorative Baskets: Integrate neutral storage solutions like woven baskets or fabric bins to keep the bedroom organized and clutter-free. These items can also serve as decorative elements.
10. Accent Furniture: Incorporate neutral-colored accent furniture pieces like a stylish upholstered bench, a minimalist chair, or a neutral-toned side table to enhance functionality and aesthetics.
11. Natural Elements: Add some greenery or natural elements like potted plants, dried flowers, or branches in a neutral vase to bring a touch of nature into the room.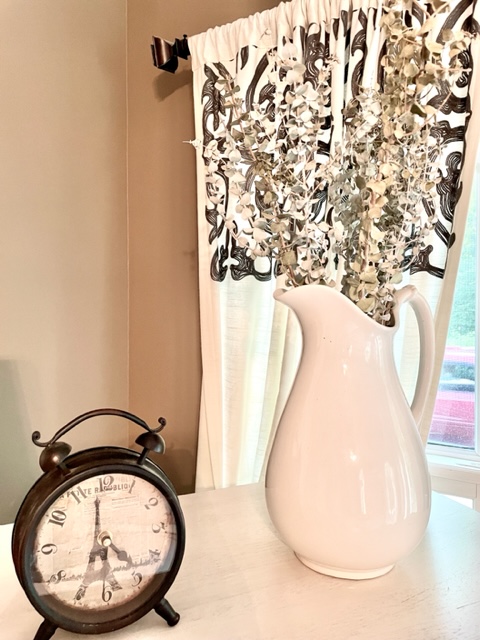 12. Personal Touches: Include personal touches such as photo frames, keepsakes, or sentimental items in neutral colors that add character to the space.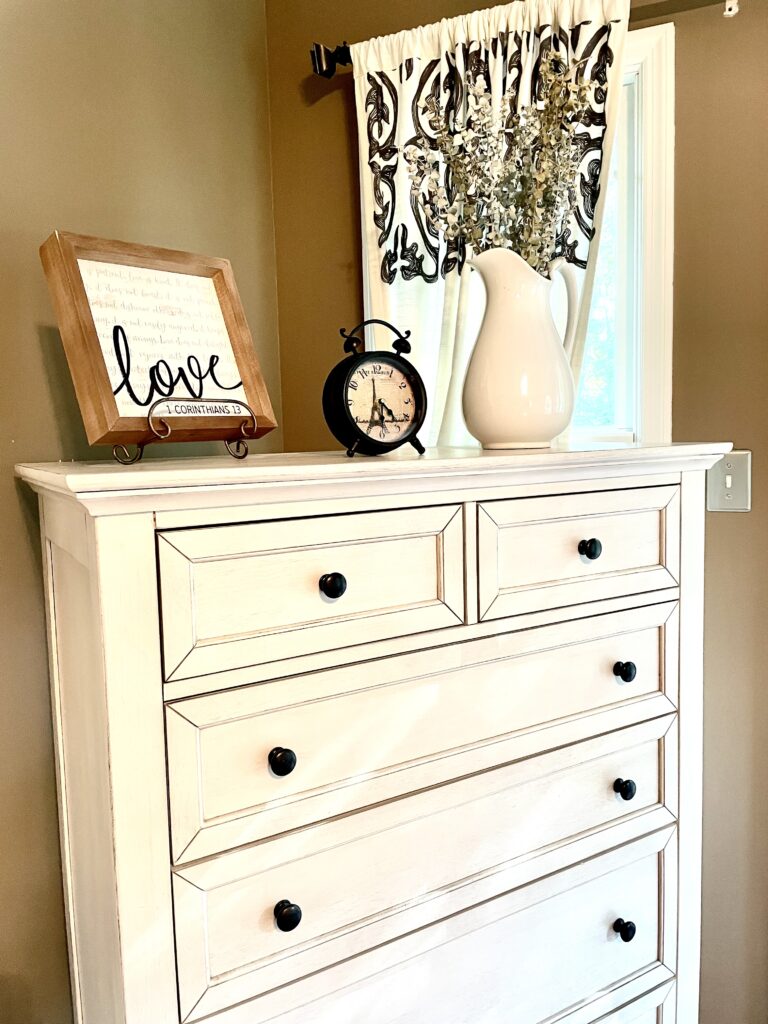 12. Minimalism: Embrace a minimalist approach to keep the space uncluttered and allow the neutral accessories to stand out more effectively.
Remember, the key to a successful neutral design is balance and harmony. By choosing the right accessories and keeping the color palette cohesive, you can create a soothing and inviting bedroom that radiates elegance and tranquility.
WATCH COMPLETED Dream Room Walkthrough