Here are Top 5 Design Hacks on a Budget for you to try in your home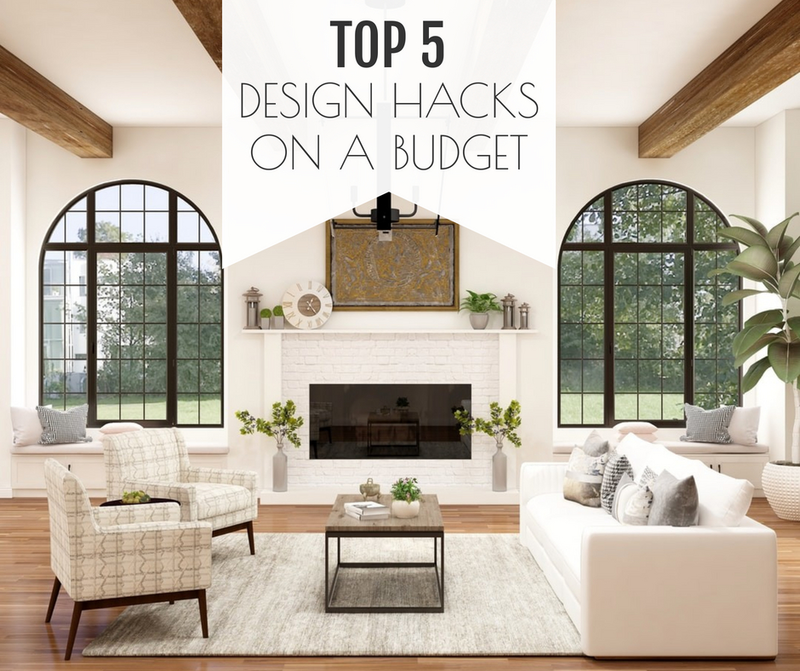 Even if you don't have the budget for big home renovation projects, there are things you can do that will make a huge difference to your home's appearance. You can update, refresh and transform your home with these design hacks that won't break the bank.
1, Refresh the Paint Color – Low cost of if you DIY IT!
2. Move Furniture and Accessories Around – Not sure how to arrange your furniture? Get my FREE resource HERE.
3. Replace Outdated Lighting With New Fixtures – I recommend purchasing and replacing one at a time to spread out the cost and to be sure the style fits your room before purchasing additional fixtures.
4. Add Some Finishing Touches Like Throw Pillows, Mirrors & Greenery – Super inexpensive purchases that makes a HUGE impact if you use my shop-smart method! Learn more about my shop-smart method in Home Styling Hub (Coaching & Community).
5. Highlight the Windows & Bring the Outdoors In – I prefer window with no blinds, only curtains. This allows you to have full view of the outdoors when your curtains are open. You won't believe the difference it will make in the lighting and your view when getting rid of all those slats going across your windows.
Try ALL or SOME of these Top 5 Design Hacks on a Budget and enjoy the results!
Access my Home Styling Guide for more styling tips for your home.