One of the things you can change seasonally in your home at a low cost (or even no cost) are coffee table vignettes. You just need to spend a few minutes following these steps to create the perfect coffee table vignette you will love!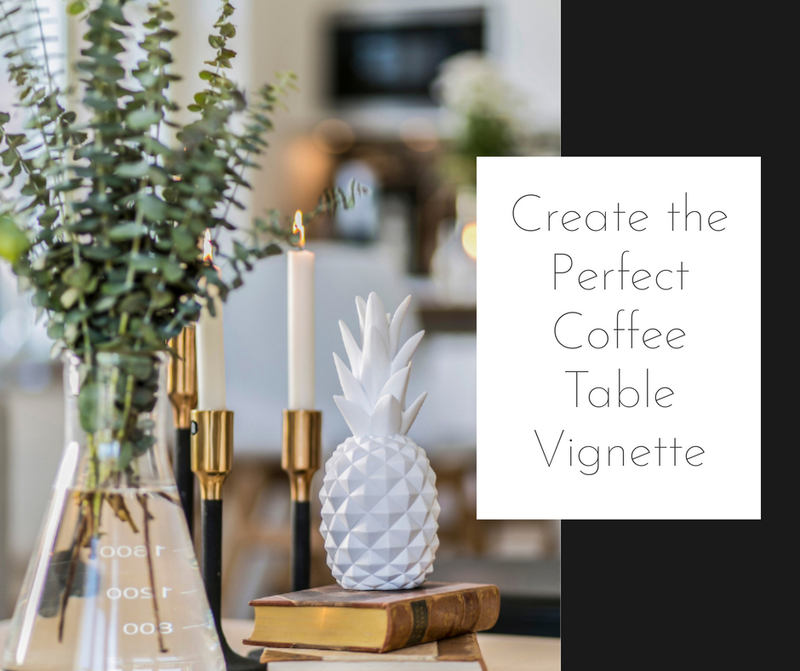 Follow these 7 easy decorating tips to create the perfect coffee table vignette to spruce up your space!
🌿 Use a decorative tray to ground your vignette. Trays are an ideal starting point for any vignette. You have many sizes and colors to choose from. Be sure the style of the tray fits the design style of the room. Additionally, select a finish that will pop against the coffee table. If you have a light-colored table, you may opt for a darker toned tray and visa versa.
🌿 Vary the height of your objects. Varying the heights of your objects adds interests and ensures your design doesn't fall flat (no pun intended). Be mindful not to interfere with sight lines from one seating to another when using taller floral arrangements.
🌿 Include some life on your table with flowers or a plant. Keep in mind, it doesn't have to be a live plant or flower to add the perception of "life". It just needs to look real and vibrant (avoid plastic-looking succulents and floral).
🌿 Keep your color palette consistent with the rest of the room. Your coffee table vignette should add beauty to the room and compliment the space. It shouldn't be the "show-stealer". A good design is one in which the eyes glide effortlessly across the room, enjoying every part of what each element has to offer.
🌿 Add some personality with something quirky. For instances, add a pineapple (like pictured) or animals always add a fun element (giraffes, birds, elephants, etc.) If fruit and animals are not your style, simply add on object with an interesting shape.
🌿 Include a variety of textures and shapes. Texture is often overlooked whether designing a room or a simple vignette. Using different textured objects in your vignette will ensure that WOW factor that will set your design apart.
🌿 Use books for interest. – Books are my favorite vignette accessories. You can introduce color, texture, height and personality with books. Face the title outward if the book title is meaningful to you and brings a sense of home and peace to the room.
TAKE ACTION
Now that you know how to make your small space seems bigger, it's time to get to work on making your small room look fabulous!
View MORE Home Styling Pro-Tips in my Home Styling Guide.