With real estate prices skyrocketing, small is the new BIG! Here are some practical and inexpensive ways to make your small space seem bigger.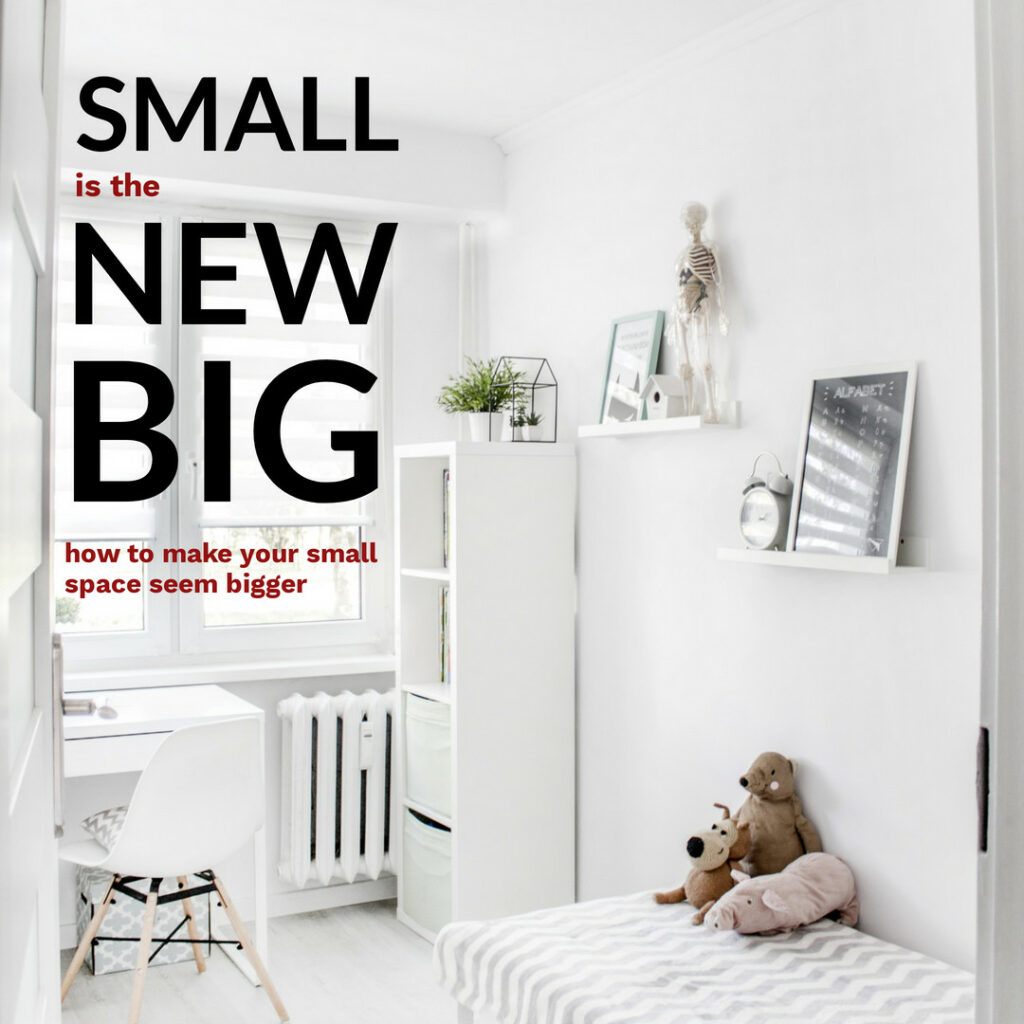 5 Tips to make your room seem bigger
🌿 Lighten Up – Paint the walls in neutral or lighter shades. My all-time, hands-down favorite cool and light paint color is Comet Dust. I love so much my entire home is painted in this crisp, beautiful color. In a smaller space, it's best to be consistent with paint color throughout.
🌿 Free Up Space – Store Items under furniture, opt for tall storage units and hang items behind doors. This interDesign chrome decorative wall hook is my first pick, and the one I use in my home behind doors -durable, stylish and inexpensive.
🌿 Mirror, Mirror on the Walls – Add full length mirrors for visual trickery. This particular full length mirror allows the flexibility to hang or remain free-standing. This mirror is also very sleek, thin and elegant. Versatile options are great and allows you to use items in different spaces of your home as your needs and lifestyle changes.
🌿 Be Adaptable – Use your dining room table as a work space or for kitchen prep work. If you need some extra prep space. I recommend a counter-height table with backless bar stools. This allows you to easily slide stools under table when not in use so the chairs are not getting in your way of prepping.
A kitchen table is a great workspace because it offers you a lot of room to spread out. You certainly don't want to sit in a hard back chair for very long. So I recommend purchasing two nice, comfortable fabric chairs for your table ends and use those for working. Here's a stylish example. Use a shallow, nearby cabinet to store away your work items each day.
🌿 Maximize on Style! – Opt for showy furniture pieces, eye popping pillows or stunning art. They key is to add a pop of color without going overboard. Be sure bold colors coordinate and are minimal in the space. I'm a timeless design kind of girl and I'm not much of a fan of a lot of bold colors in my home. An easy way to add color is with greenery. The use of plants and succulents (artificial or live) is a simple way to add that bold color to your design.
take action
Now that you know how to make your small space seems bigger, it's time to get to work on making your small room look fabulous!
View MORE Home Styling Pro-Tips in my Home Styling Guide.