The Spring Season is the perfect opportunity to refresh your home decor! Update your space for the season using these 5 ways to freshen up your home.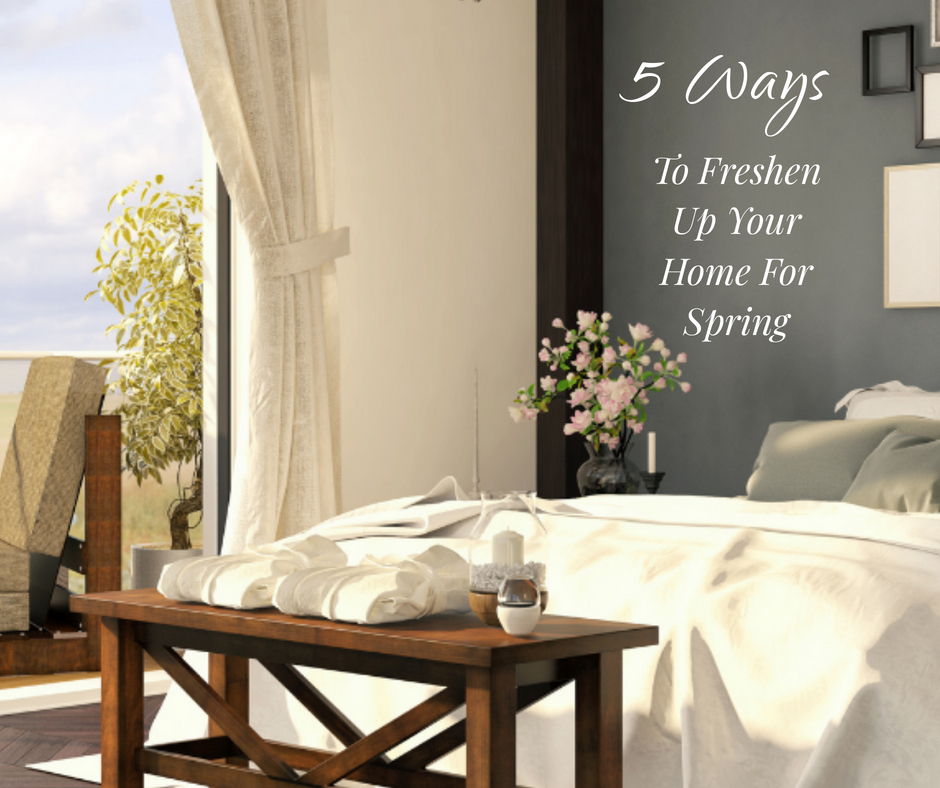 5 easy ways to refresh your home
🌿 Rearrange your furniture or accessories – Proper furniture arrangement can elevate the look and feel of your room. When your placement isn't ideal, it can interrupt function and comfort. Be sure your arrangement is spot-on! Click HERE to access my 5 Pro-Tips for Furniture Arrangement.

🌿 Swap out throw pillows for bolder and brighter ones – Because I'm a neutral, timeless design kind of girl, I use white as my bold and bright option in contrast to more earthy tones that I use in the fall and winter seasons. Here is the link to my favorite white pillow covers. These come in a variety of sizes and colors if you prefer a bolder look.

🌿 Update bed linens – How hard could it be to purchase new sheets? It's actually pretty simple once you decide your color and thread count. I prefer white sheets because they can be bleached which is always a plus for any linens. Here's a little about thread count. Good sheets range anywhere from 200-800 thread count. The higher the count, the softer the sheet (typically but not always), and the more you'll pay. Want to know more, check out What does thread count mean (and why isn't highest always the best)? Personally, I get all my sheet at Sam's Club. They offer a variety of colors at a 450 thread count at the amazing price of $35 for a king set. And trust me when I say, "they are super comfy".

🌿 Wallpaper an accent wall – Before you skip right over this because it sounds really hard, keep reading and you'll be pleasantly surprised by how easy this can be. I've never attempted traditional wallpaper, however, I've been successful at peel and stick. This is an inexpensive, simple option if you have a little bit of patience and a steady hand. Check out this video-set backdrop design where we used peel and stick to transform this space. If you want to give it a go, here's the paper we used.

🌿 Bring the outdoors in with plants and flowers – Neither one of my thumbs are green. I have killed every plant I've ever tried in my home. However, I've just learned of some plants that are almost impossible to kill. Here are 17 drought-tolerant houseplants you can't kill. I think I'll give a few of them a try! If you'd rather not, artificial plants can add just as much beauty to your room. Of course, not all artificial plants are created equally and some do look super cheap. If you go this route, chose carefully so that your new plant addition doesn't de-value your room refresh.
Take Action
Now that you have learned 5 ways to freshen up your home, pick a few (or all them) and bring in Spring with a bang!
View MORE Home Styling Pro-Tips in my Home Styling Guide.