The Challenge
Welcome to this penthouse apartment sunroom makeover! This over-sized sunroom needed a little organizing and sprucing up. There was ALOT of "stuff" in this room that was non-functional and we resolved that common challenge. Also the furniture arrangement did not provide an inviting and welcoming feel and we resolved that challenge too!
The existing seating arrangement was all pointed to the TV that was hung high in the corner of the wall. When doable, it's best to have a conversational arrangement and to have the TV placement directly in front of the main chairs for best viewing. We removed the blue chair and replaced by a more neutral color that coordinated well with the other furnishings in the room.
The Solution
To gain that conversations arrangement, we simply pulled one of the 3 chairs to the corner where the TV once was. The TV was then brought down to eye level on a console table that was formerly sitting under the hung TV with no usable purpose.
BEFORE AND AFTERS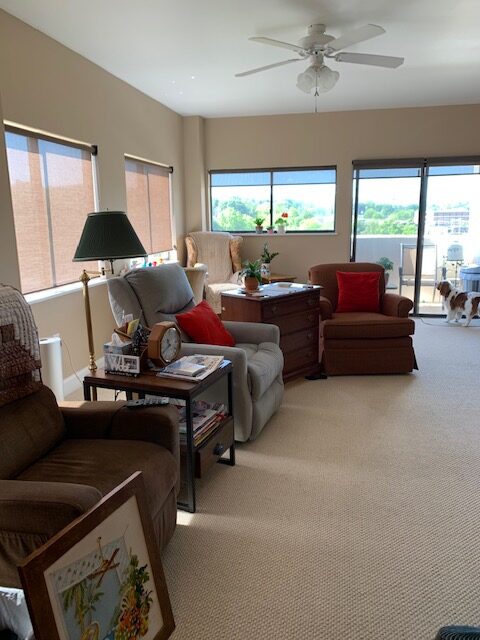 We cleared out the clutter by removing every item in the room that didn't serve a purpose. And look how nice and tidy everything looks!
Designer Pro-Tip
Each piece of furniture in your room should serve a function. Even if that function is to display your beautiful accessories and memories… or to simply look pretty.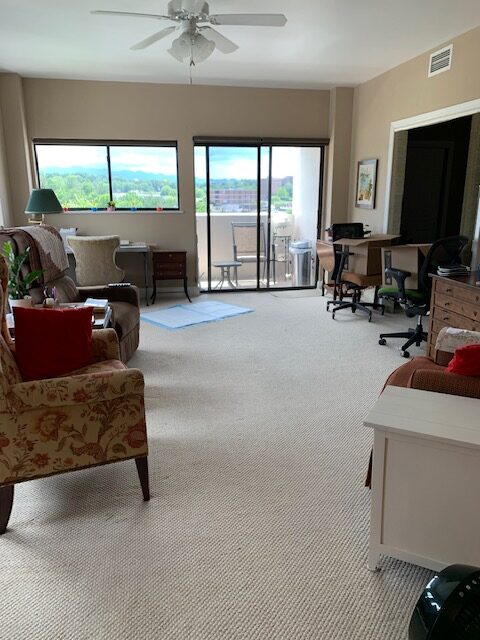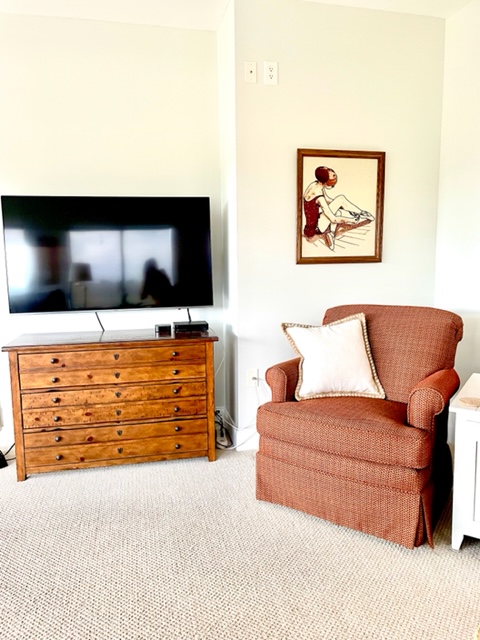 We updated the corner cabinet by painting it a cream white from it's dated dark oak color. The client was over the moon that we found a special and prominent place for her beloved wall art that had been tucked away in a spare room. The client was extremely pleased with this penthouse apartment sunroom makeover and couldn't wait to enjoy it with her cute dog, Utah.
Watch LIVE client interview with Marilyn.