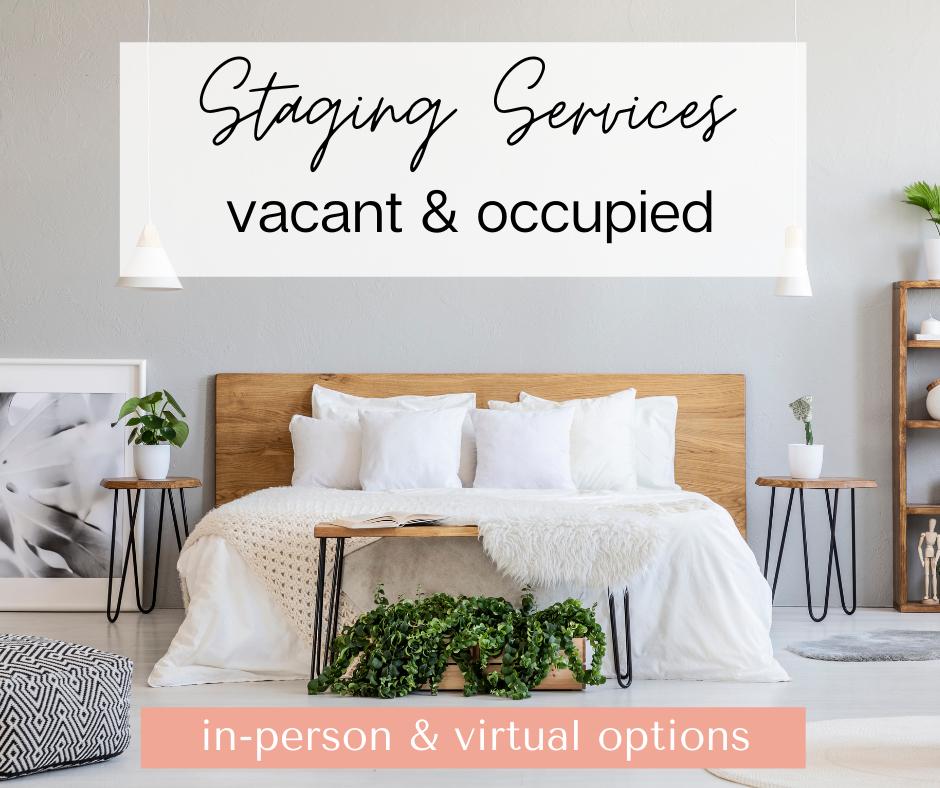 We are committed to gaining you Top Dollar for your property by providing concierge service from Pre-List to Closing which includes professional photography.
Our objective is:
To Gain Top Dollar for your property by creating environments that make buyer's feel at home. Our staging services bring maximum return on investment for every dollar spent.
REALTOR Partnership Program Perks
Concierge Service for HOMEOWNERS
We offer staging services for OCCUPIED and VACANT homes
Home Styling Studio, LLC believes that successful staging is the art of using marketing and design techniques to create an environment in which buyers will emotionally connect. "If I buy this house, I can have this lifestyle." We use the art of positioning to create several "emotional connection points" throughout the home so that when a buyer steps into the house they feel home. And they say "This is it. This is the one."
Show-Ready Home Session (
DIY Home Action Plan for Occupied Home) – Starts at $

295

An intensive in-home session in which every room in the home is objectively evaluated from a buyer's perspective. This service is designed to give homeowners the objective, expert advice they need to do the work themselves. A written Home Action Plan serves as a room-by-room, step-by-step guide. (This service is perfect for the DIYer).
"Get it sold" Home makeover (Occupied home) – Starts at $

595

This service is for those clients who are feeling overwhelmed with preparing for their home sell. This service starts with an in-home session in which every room is objectively evaluated from a buyer's perspective and concludes with us working together to execute the necessary changes.  This service can take up to 4 hours in the home.
FINAL TOUCH STYLING SESSION (OCCUPIED HOME) – Starts at $150
You have completed the styling as outlined on the DIY Action Plan and purchased the suggested items provided on your Priority Shopping List, now what? Schedule this session and we will come back out to review your completed work and fine-tune any areas as needed. If you elected to purchase a Styling Kit, your new items would be installed at this time. (Add-On Service)
Photo Prep Session (Occupied Home) – Starts at $150
This is a follow up visit to the DIY Home Action Plan. It allows us to make final adjustments so that the home looks beautiful for photos and showings. In this session, we arrive prior to photo shoot and install our accessory staging kit when needed for maximum photo impact. (Add-On Service)
🏠 Vacant Home Staging Estimate – Complimentary estimate
Start here to receive your complimentary phone estimate. Our staging packages are tailored to your home and your budget.
Soft Staging for Vacant Home – Based on Luxury & Scale of Home
This type of staging has the same concept as traditional staging but without furniture. We add curtains, linens, rugs, artwork and accessories that compliment the home to make it feel warmer and more inviting. Emotional connections points are woven in so that buyers experience a sense of home rather than an empty, lonely space.
FUll Room Staging for Vacant Home – BASED ON LUXURY & SCALE OF HOME
This service provides the level of staging that showcases a lifestyle through the use of furniture and accessories. These furnishing will highlight the best features of the home and detract from the less desirable ones. Staging gives each room purpose and life so that a buyer feels at home. Staging is an investment, not an expense.