Home decor accessories can be costly. This is why we believe in using what you have first. Books are a creative and inexpensive way to style your home. Your existing accessories gain a totally different look by pairing them with books of all sizes, colors and textures. I've used these 5 techniques in my living room and I'm sharing them with you in hopes to inspire you to pull out those old books you have tucked away. It's time to put them to good use.
Here are 5 ways to add style using books:
1. Add Height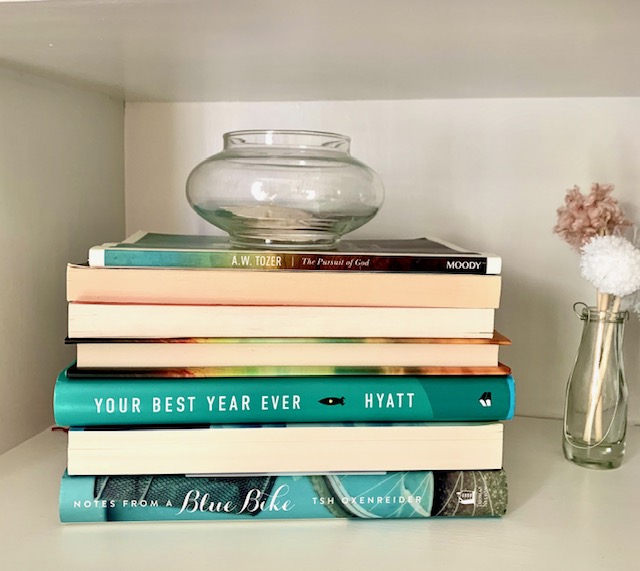 Books make great risers! Use them to display your smaller accessories so that the scale of your grouping works well with the scale of your display area.
2. Add Color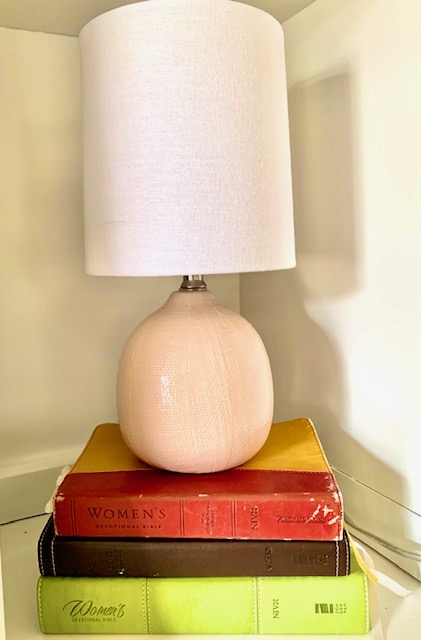 Be purposeful and creative! Mixing colors is a great way to add a pop of pizzazz to your space.
3. Add Texture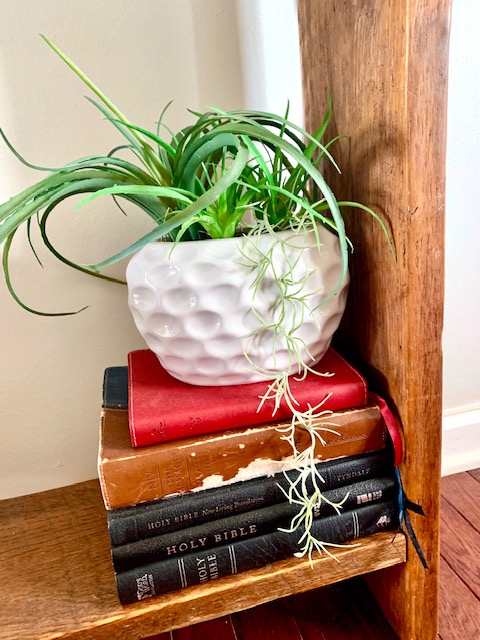 Leather books, especially Bibles, is a unique way to add texture. Take it one step further and add an accessory with a contrasting texture (like this patterned vase). The worn spine of the Bible pairs nicely with the rustic shelf.
4. Add Interest
Make it interesting! Group books and accessories together that are visually pleasing. Use like colors and alternate spine and pages. Use an interesting, complimentary accessory to top off the stack.
5. Add Personality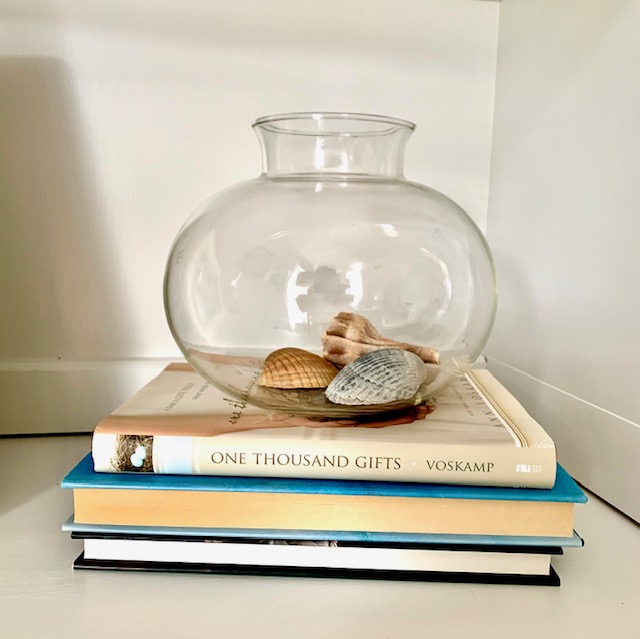 Tell your story. By displaying titles of your favorite, most meaningful books, your family's values are put on display in your home.
Where to you get books?
If you are like me, you have no shortage of books. Although you may have to dig them out of your closet or boxes that have been stored away. So what if you don't have any books on hand? The Dollar Tree or thrift store are two great places to find very inexpensive books.
What to look for?
There are 4 basic elements to examine when searching for books for styling purposes.
Size – Be sure the size works for your space. Consider not only length and width but also thickness.
Color – Color is one of the most important elements to consider. It's important to remove the paper cover to view the actual book cover itself. The paper cover may fit right in with your color scheme. If not, the book cover itself may be just the accent needed. So don't forget to consider both options. Also consider the color of the pages for "pages facing out" display (white or off-white is the most common choices).
Condition – The desired condition of your books will depend on your design theme. Farmhouse may call for some tattered and well-read books. On the other hand, a modern design will require a more clean-lined, well-kept look with crisp white pages. Take note of the condition of the pages if you will be displaying "pages facing out".
Book Title – Book Title is important only if you will be showcasing the spine of the book. Otherwise, the title makes no difference. Be mindful of the titles you showcase and allow them to speak to your family's values. Your guests will be drawn to read those titles if you style in a way that creates visual interest.
Now it's time for you to try! I'm cheering you on.