Our homes should be personalized and look as different and unique as our individual personalities. With that being said, these are 8 common decorating mistakes to avoid that if you're looking to step up your interior and make it shine!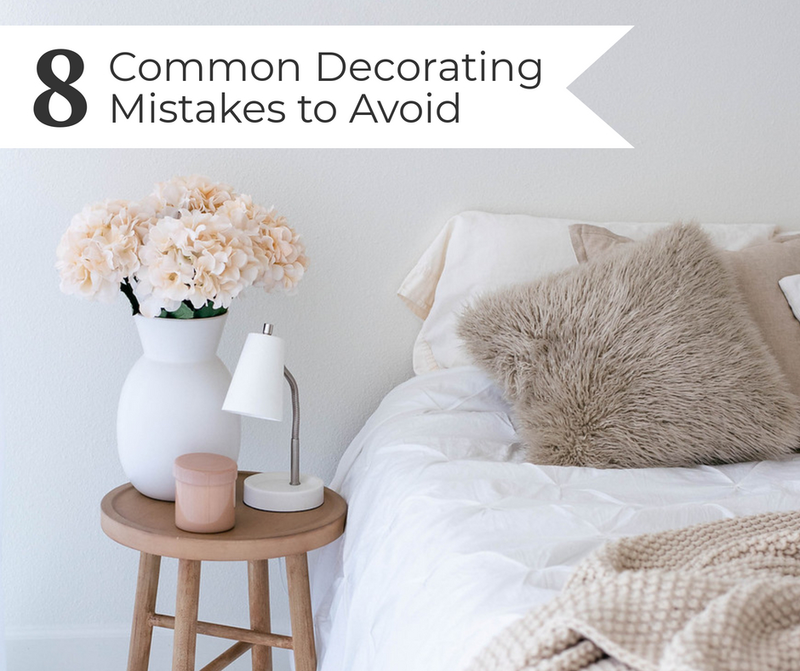 1. The furniture doesn't fit or is pushed against the wall – If the room feels crowded it may be necessary to remove a piece or two. Poufs and ottomans are a good way to add additional seating without taking up too much space. If your room is large, pull everything in from the walls and add an area rug to define the seating area.

2. The rooms aren't cohesive – You can certainly incorporate different design styles in your space, but be consistent with your design when rooms are adjoining or can be seen from other rooms in the home.

3. It doesn't feel personal – Add the items you love that have meaning and tuck away any heirlooms you want to keep that aren't necessarily your style. Everything that anyone has ever given you doesn't have to be on display. It's ok to have a special place for these items to enjoy when you want to reminisce.

4. It's missing finishing touches – You'd be surprised at how much one right decor item can make in a space. Add a vase and artificial floral or plant, accent pillows, throw and some books to complete the look.

5. There are too many accent pillows – Accent pillows on a couch are a must but too many make it feel uninviting and uncomfortable. You don't want to have move pillows each time you sit down. Two to four is a good number depending on the size of the couch.

6. The art is hung too high or isn't to scale – A simple rule of thumb to hanging art at the right height is to place the center of the art object at 60″ to 63″ above the floor. Also, nothing throws the eye off like miniature wall hangings on a huge wall. Be sure your art is substantial enough to be enjoyed.

7. The area rug is too small – This is a very common mistake that disjoins a room. In a living room, the front legs of all your furniture should be sitting on the rug. A floating rug is a design no no.

8. The lighting is poor – It's amazing how the right lighting can change the entire feel of the room. Check out these examples of light bulb color temperature to determine which is best for the specific rooms in your home.