One of my favorite decor items as a home stager and designer are mirrors. I absolutely love them! Given the right placement and lighting, a mirror can be used to amplify light, interest and even sometimes, drama. Here are expert tricks for decorating with mirrors.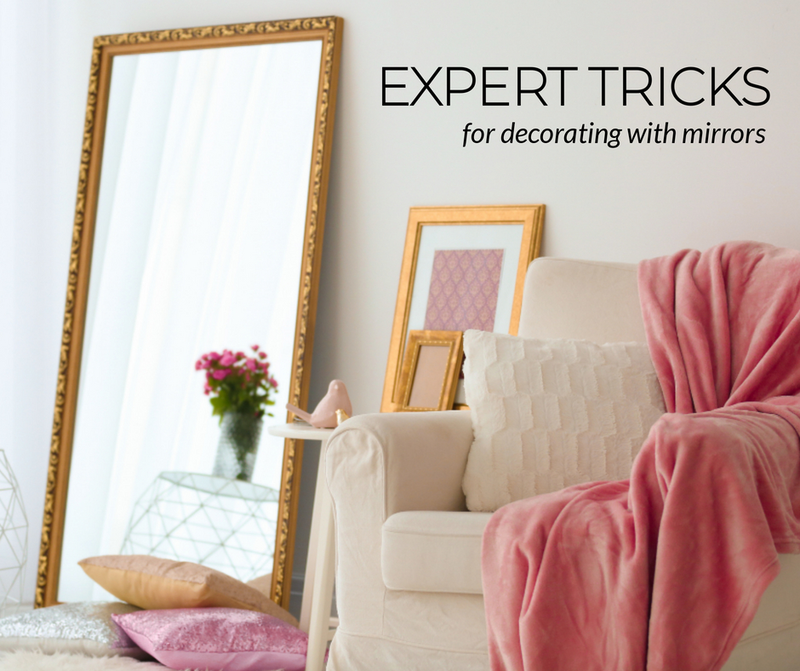 my top three design tips for using mirrors to transform a home
🔆 Placement Is Key: A mirror should always be across from something visually appealing and should always be hung at the appropriate height for the space (not too high).
Here is everything you need to know about how high to hand a mirror. (Excellent resource!)
🔆 Embrace A Large Mirror: Maximize a mirror's impact and create a focal point on a wall. When you go a little bit larger, it makes it look more dramatic and really expands the space. It's way more common for people to buy a mirror that is too small for their wall than too large.
Rule of Thumb: Choose a mirror that is around two-thirds of the size of the furniture it is handing above.
More about what size mirror you should get. (Another excellent resource!)
🔆 Use Mirrors to Reflect Light: Spaces with mirrors feel larger because light reflects off the glass and back into the space. You can hang mirrors opposite windows to take advantage of natural lighting.
Now that you have my expert tips for decorating with mirrors, take a look around the walls of your home. Where can you implement this simple design tip?
If you need a little design advice. I'm here to help!
View MORE Home Styling Pro-Tips in my Home Styling Guide.