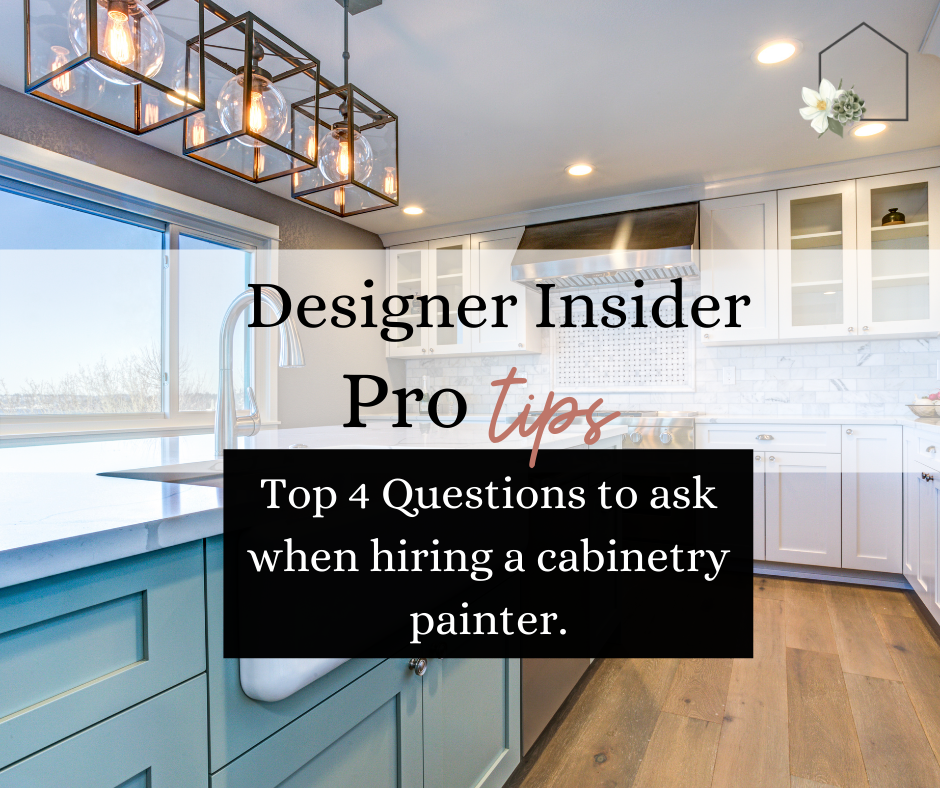 Painting cabinetry is not for the faint at heart. If you aren't up for DIYing it, your other option is hiring it out. Because your cabinetry is likely your biggest ticket item in your kitchen, you want to be sure it's done right. Painting versus replacing will save you thousands upon thousands of dollars. So if your cabinetry is in good shape, painting is my recommended choice!
It's not enough to look at the painters portfolio of previous painted cabinets. It's impossible to see the quality of work in a picture when it comes to painted cabinets. Paint runs, missed areas and quality of workmanship won't be easily seen on a photo. For this reason, it's important to ask some key questions when selecting your cabinetry painter. If you are planning to get several quotes, these questions will ensure you are comparing apples to apples when reviewing your quotes.
Here are the Top 4 questions you need to ask when hiring a cabinetry painter.
1. What process and technique will you use?
A skilled cabinetry painter will be able to walk you through their step by step process so that you understand how much time and care will be involved. In addition, brushing and spraying are both very popular. However, I do not recommend one over the other. It depends upon the overall process (including the number of coats) as to which option will give you the best result.
2. What paint product(s) will they use?
A skilled cabinetry painter will use products that are specifically formulated for cabinets or furniture. Common wall paint will leave unwanted brush marks which is something you want to avoid on your cabinetry. Standard primer can also leave brush marks which will be tough to hide even if high-quality cabinetry paint is used.
3. What surfaces will they paint?
You are probably thinking, "this seems like an obvious answer". Speaking from experience, you shouldn't assume the obvious. I recommend ensuring the entire surfaces of the boxes will be painted. This includes the side panels that are hidden by the stove and refrigerator. Whether or not you will ever see those surfaces, your exterior cabinetry needs to be painted in full because that's just how a professional does it.
Also, it is an absolute MUST to ensure the inside of the cabinet doors be painted. There is nothing more ugly than beautifully painted exterior cabinetry doors until you open them up just to find the reminder of how awful they were before. It is not typical to paint the interior shelving and walls. If your cabinetry needs that much love, it may be time to purchase new ones. A skilled painter can show you exactly where their painting will stop and start.
4. Will door painting occur onsight or off?
Likely if your doors and drawer fronts are being sprayed, they will likely be taken off-site. If not, where will they be sprayed to be sure paint doesn't end up on the wrong surfaces? If brushing of doors and drawers will take place on sight, what area will that take place? A large open area is typically needed for layout and drying.
Bonus Question – Will my kitchen be usable during the project?
I don't know about you but it would be a hard task for me to go without my kitchen for more than a few days. In our paint projects, the kitchens remain fully functional. Painting cabinetry can be a process over several weeks when done right and it's important to know the timeframe and if you will be able to access your kitchen over that time. That question alone may be the decision maker for you.
I hope these questions will be helpful for you in hiring out your project. If you are local, feel free to contact us for a quote. And if you are not, we do offer virtual consults to assist with paint and provider selection. And lastly, if you decide you'd like to DIY it, we can help with that too! Our DIY Cabinetry Painting Consult will walk you through step by step, including all the materials you'll need to refresh your kitchen cabinets.
Call or Text 423-302-0060 or christy@homestylingstudio.com
Want to hear more about refreshing your kitchen. Check out the replay of my LIVE video HERE on my exclusive Girl's Guide to Styling Your Home page.
If you want to get Designer Insider Pro Tips LIVE (and a lot more design goodness), you're invited to my exclusive FB group Girl's Guide to Styling Your Home.