Most people already know your bedroom should be your sanctuary. The bedroom is a designated space to unwind and decompress from a stressful day. Learn how to create a peaceful bedroom retreat! Here are 10 ways you can create the right mood in your bedroom without spending a fortune.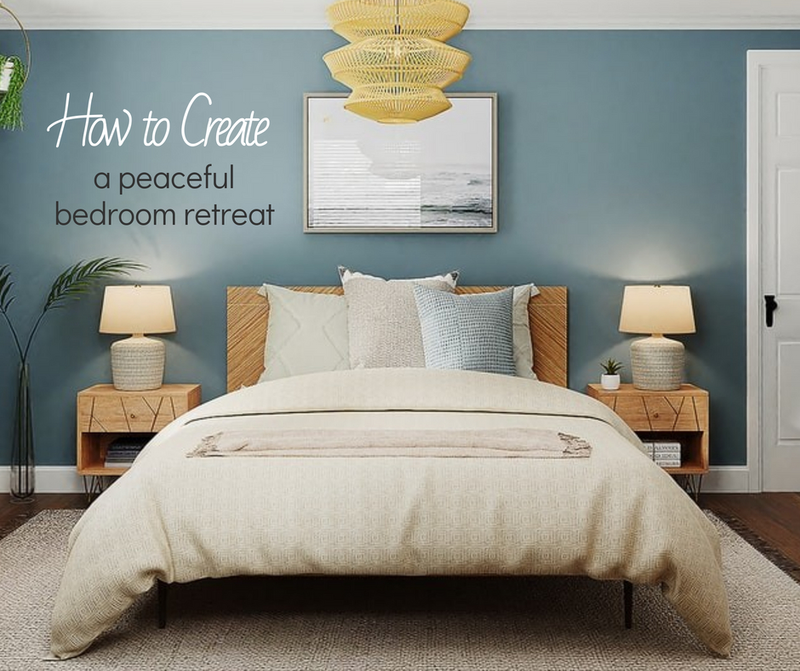 Top 10 ways to creating a peaceful bedroom retreat
🌴 Keep pillows fresh with a scented pillow spray – Lavender is a calming scent that reduces stress and promotes relaxation.
🌴 Make it yours by decorating with photos that warm your heart – Add a collage of wedding photos or family photos to a bare wall.
🌴 Tidy up and make sure your room is clean and clutter free – A clutter-free space signals your brain to rest.
🌴 Invest in a good mattress and you will sleep like a baby – A peaceful bedroom retreat begins with a good nights rest.
🌴 Use soft light bulbs to create a feeling of peace and calm – Lighting has huge impacts on your mood in a space so be sure you have the proper type and wattage.
🌴 Put fresh blooms on your nightstand – I'm big fan of artificial floral because it's low maintenance. However, fresh blooms creates an amazing ambiance with a sweet fragrance.
🌴 Freshen up the walls with wallpaper or serene art – Wallpaper is back! Select something timeless so you aren't stripping it down in a few years. Or go with something easily changeable like a fresh canvas or interesting print.
🌴 Light your favorite candle – Wood wick candles are my favorite because they crackle like a burning fire.
🌴 Splurge a little and upgrade your sheets to a higher thread count – Comfortable sheets are a must! Treat yourself and spend a little more to gain that extra comfort.
🌴 Mix in soft textures and cozy throws – Add at least 4 regular bed pillows and several throw pillows to accent decor. A textured throw casually draped over the bed adds the final touch.
And now you know how to create a peaceful bedroom retreat. Time to get started!
View MORE Home Styling Pro-Tips in my Home Styling Guide.