inspiration
Inspiration can be found in unusual places. For instance, this beautiful canvas was found hanging on the wall of the restroom in the salon. As soon as I spotted the soft pastel colors coupled with the green, I knew it would be the perfect inspirational piece for the lobby design for this new salon. The client agreed!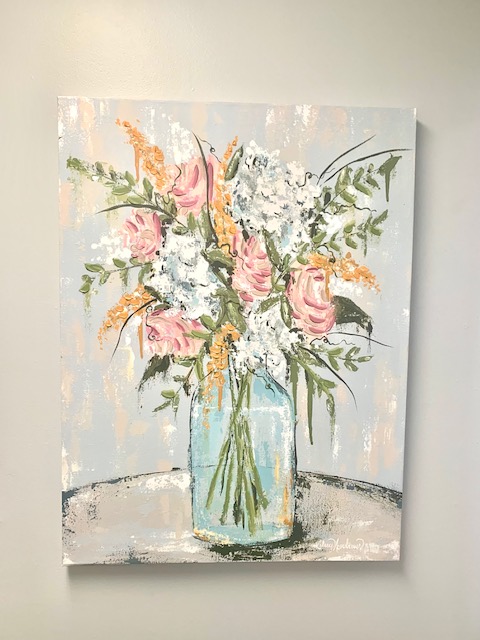 The Wall of windows
First up to address was this huge wall of windows! We didn't want to block the sunlight, but needed to add some softness to the space and shield some of the glare. If you think the client had to spend a lot of money on these long panels, think again! I know where to get the best prices for my clients.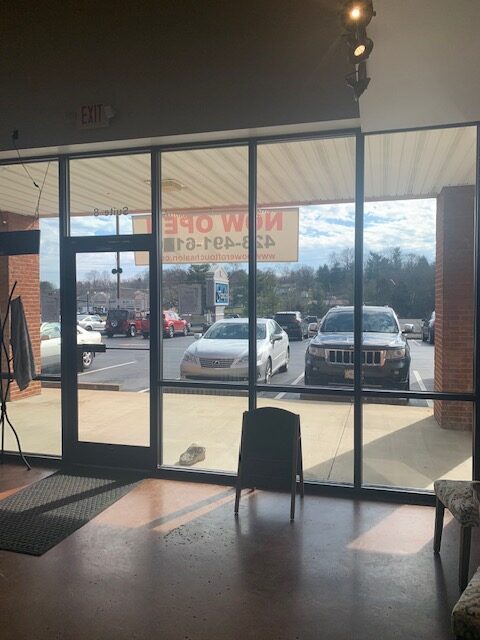 The Design
One side of the room was designated for a waiting area and the other to display products. We used several white large screens to separate these areas from the main salon to give a cozy, comfortable feel. The leathered-look floors and the freshly painted SW Comet Dust (one of my favorites) provided the perfect backdrop for this soft, pastel color palette. The leather pillows and light florals were the final touches to this sophisticated waiting area.
The metal on the welcome station received a white coat of paint to tone down the industrial look. The products were beautifully displayed across 4 cube stands. The inspirational canvas is front and center and ties both sides of the room together nicely.
We love working with this client! We previously designed the lobby of her massage and spa business and were thrilled she invited us to be a part of this new, salon venture. She was very pleased with the result!