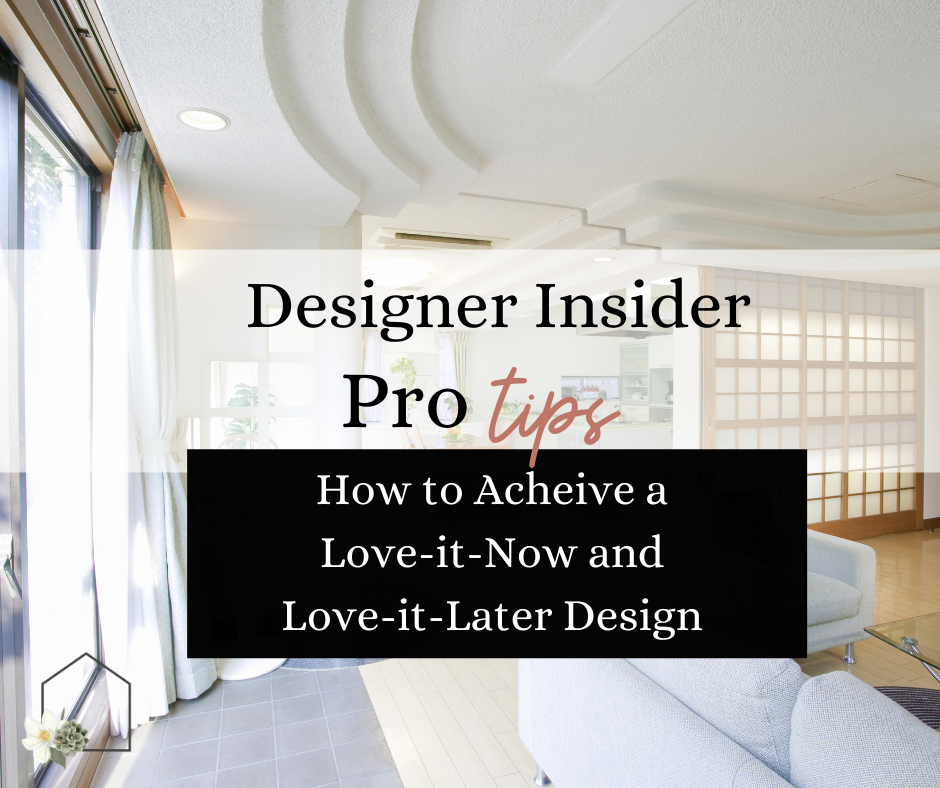 (TO WATCH DESIGNER INSIDER LIVE REPLAY, SCROLL TO BOTTOM)
If you are like me, when you spend the time, money and energy on a room makeover, you want to LOVE it for years to come. Whether you are DIYing your makeover, or enlisting the help of a professional, you are likely not going into the project thinking you'll be doing it all over again anytime soon.
You may be wondering if it's possible to create a design that will stand the test of time, one that you'll love NOW and LATER. It IS totally possible and I'm going to show you how.
Follow these 3 simple rules to achieve a Timeless Design in your home and go into your next makeover project with anticipation of not only loving it now, but loving it later. ❤️
rule# 1 – Neutral backdrop
The most important rule to follow in achieving a timeless design starts with your backdrop. It's actually pretty simple – keep it natural. This doesn't mean you need to go colorless, it must means you need to start there. The first place you'll want to go neutral is your walls. White, gray and beige tones work well. Since gray is a very popular color these days, I'm going to offer you a word of caution. I recommend going with a gray-beige and not a blue-gray. Blue-gray, although very popular right now, it more a trend, just like yellow-beige was in years past. Pay attention to the undertones in your colors to be sure you are unknowingly choosing a trendy color.
Now onto the furnishing. Go neutral on any larger items or more expensive purchases that you do not intend on changing out. These would be items such as a couch, recliner, tables, expensive wall art or rug. I actually went with a bold rug in my living room to add color to my timeless design, however, my rug was very cost effective. Accessories that can be easily and inexpensively changed out would be pillows, table decor, throws, lamps and smaller wall art.
Adding pops of your favorite colors using accessories will allow you to comfortably change out your look and makes it super-easy to decorate for different seasons and holidays throughout the year.
rule# 2 – Mix Styles
Rule # 2 is all about selecting the style of your furnishings. One of the crucial steps in work making over a room for a client is my "What's In, What's Out" method. This step is all about determining what existing items can we use prior to determining what items do we need to purchase. Because I am very cost conscious and because I appreciate the history of older items, it's important to me to use what you have first. You would be amazed how that old table that you detest looks fabulous when paired with a new accent chair. Mixing the old with the new adds interest to your space. And remember, old styles will circle back and become new again.
Mixing design styles is going to keep your design current for years to come. Here's why. When you bring in a mixture of different styles (traditional, modern, contemporary, country, farmhouse, eclectic, etc.) pieces of your room will always be in style. This means when one style goes out, your entire room doesn't become outdated because you have incorporated a mixture of styles. Those "in-style" items are going to keep your room on trend so that your room remains relevant.
rule# 3 – Make it functional
Making sure your room is functional, is the most common overlooked rule of the three. You may be wondering what functionality has to do with creating a look you'll love NOW and LATER. It has everything to do with it! It's important to look past the visual aspect of design (no pun intended) and focus on the usability of the space. Unless you have room in your home that need to serve no purpose other than looking pretty, you must not overlook this rule.
You can create the most beautiful, timeless design ever created but if it doesn't serve your family well, you're not only NOT going to Love-it-Later, you are NOT going to Love-it-Now. Functionality is KEY! If your finished product is a lovely room that is not comfortable and functional for the way you live, you are certainly not going to want to keep that design for more than just a minute.
it's time design!
I have just shared with you the Love-it-Now and Love-it-Later rules I use when working with clients on their room makeover. If you follow these simple guidelines, you'll be on your way to creating that Timeless Design you'll love for years to come.
Watch Designer Insider LIVE