We want buyers to make the transition of logically deciding to visit your home (because it fits their size/location criteria) to emotionally "seeing themselves and their family living in your home" since we know that this transition is what will provide you with offers!
Not all buyers may entertain, BUT they ALL envision a lifestyle of entertaining…interesting isn't it? What people do and what they actually dream of doing are two very different things. We want to create spaces that showcase a desirable lifestyle. The below chart helps you to creatively view the differences between the "vision" we are trying to create for buyers who walk through your home and the way we typically live.
We must put on our most critical Buyers Eyes, in order to market and merchandise your most valuable product.
BUYER LIFESTYLE CHEAT SHEET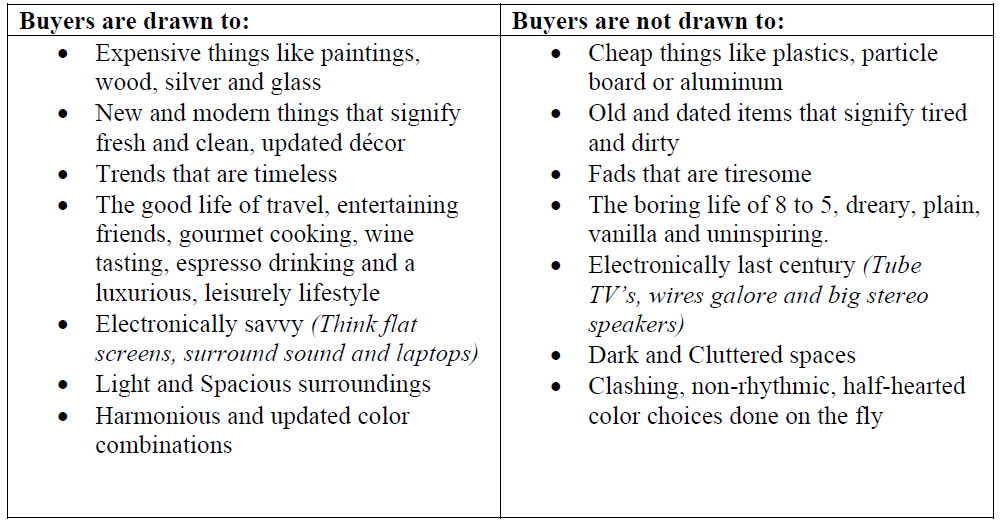 Hands On Exercise – Grab one of your favorite home magazines or view some Pinterest decor images. You will see that every photo is "visually merchandised" to create a longing in the viewer. We want to create that same merchandising vision in every room of your home.
Are you ready to start merchandising your space for buyers? We are here to help!