Here are the best spring tips to sell your home. Selling your home can be stressful any time of year it is, but if you are thinking about selling, springtime might be a perfect time! 
Help your property shine in a busy spring market with these tips to get your home ready to show. By completing these steps, your house will stand out and leave a lasting impression with buyers.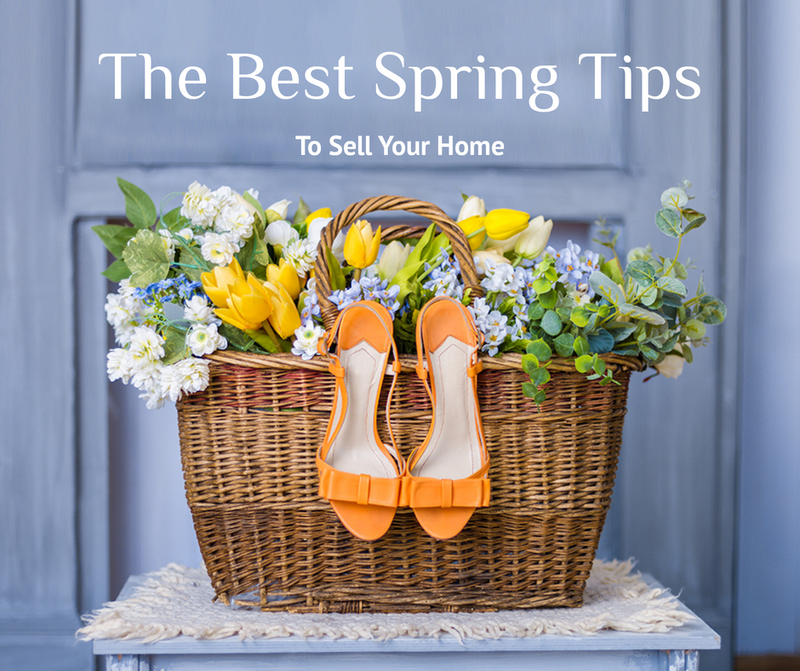 HERE ARE the 10 best spring tips to sell your home.
🌼Declutter, toss and donate – Check out my 12 Quick & Easy Organizing Tips for a Tidy Home for some practical decluttering ideas.
🌼Spruce up your landscaping – Whether your landscape area is large or small it's important to keep it tidy and clear of any weeds. The buyer needs to see how easy it is to keep up with the landscaping chores. In their mind, If you can keep it nice and tidy, so can they. Get more First Impression tips HERE.
🌼Apply a fresh coat of paint – Color is tricky, especially when choosing a color for resale. Remember, it's not about personal taste, it's about appealing to the masses when selecting a color. Neutral is always best, but neutral is not always straight-forward. Check out the best paint colors to sell your home.
🌼Perform necessary repairs – Everyone has busy schedules and the last thing a busy family wants are repairs (even if minor) to take care before moving into their new home. Take the time to tackle these items before listing your home.
🌼Make your front door area look inviting – A rug (layered is even better) and a simple wreath will do the trick! Get some ideas by checking out some of our previous At Your Door Packages.
🌼Let in natural light – I recommend removing or raising the blinds and adding sheer curtains for maximum light entry. Natural light makes rooms appear larger and the more perceived real estate you can showcase, the higher the impact.
🌼Get rid of outdated decor and fixtures – Nothing dates a home quicker than outdated decor and fixtures. If your decor is outdates (even if you love it), tuck it away and purchase a few newer pieces for staging. Elevate the Luxury of your Home with these lighting ideas.
🌼Consider upgrades – The right upgrades will bring a return on investment. The wrong upgrades will cost you. Check out these Top 15 Updates that Pay Off when selling your home.
🌼Clean all floors – No one wants to envision themselves living in a dirty house, especially someone else's dirt. Spend the extra money to get a deep clean if cleaning is not your thing. It will be worth the cost or effort.
🌼Stage your home to help expedite a sale – Both vacant and occupied homes need home staging and styling to showcase the home and raise the perceived value and size. It's difficult to be objecting about your furnishing, decor and placement of it all. Bring in a professional to assist. I'd love to help! (In-person and virtual services available). Check out the 4 Reasons Why Home Staging is Worth the Cost.
Taking action with these 10 Best Spring Tips to Sell Your Home will make your property most appealing to buyers and gain you higher offers.
View MORE Home Staging Pro-Tips in my Home Staging Guide.